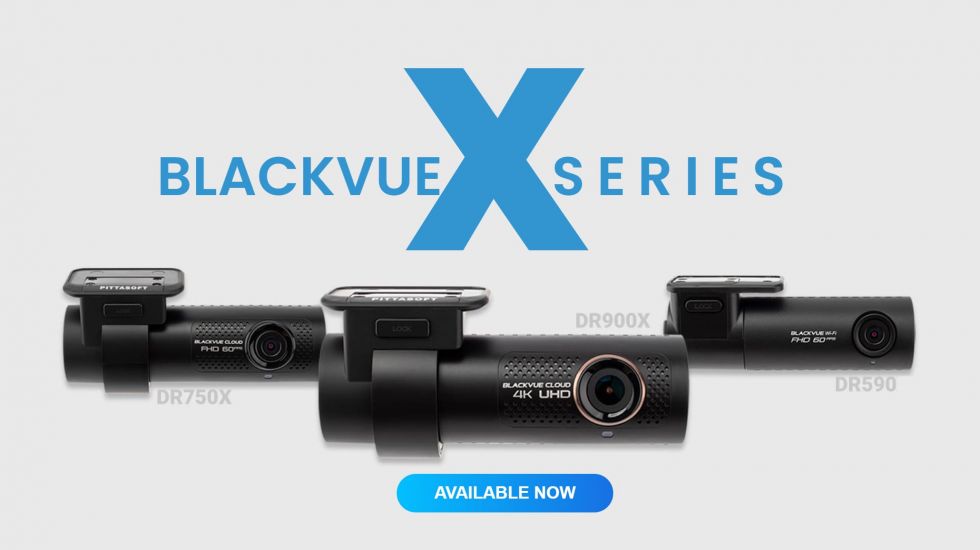 Product News
Introducing the BlackVue X Series
DR750X & Dr900X lineup

With a bunch of exciting new features

BlackVue are proud to release the new DR750X and DR900X series cameras, both available in the 1CH & 2CH models.
The cameras feature the same recording specifications as their S version predecessors, however with the highly anticipated added bonus of in-built parking protection! That's right, the DR750X and DR900X come with a built-in Power Magic Pro!
The DR900X and DR750X models also include a hardwiring cable in the box. When you hardwire your dashcam, you connect the hardwiring cable to your fuse panel. Make sure to consult your retailer upon purchase to ensure they can provide safe-installation for you.
The hardwiring cable has three wires: ground (GND, black), accessory/switched power (ACC+, red), and constant power (BATT+, yellow). For this reason, it is also called "3-wire cable" as opposed to a "2-wire cable" which include only the accessory and ground wires. The switched power wire connects to a fuse that should be powered only when your vehicle's ignition is on. The constant power wire connects to a fuse that should be powered all the time (always consult your vehicle's manual). Thanks to those two wires, the dashcam is then able to determine when to start Parking Mode based on the ignition status. The dashcam itself will then monitor the voltage coming from your vehicle's battery and shut down when reaching the preset value (11.8, 12 or 12.5V). Both the voltage cutoff and the timer can be set via the BlackVue App or Viewer.
LTE Connection (CM100LTE)

Possibly the most exciting new feature is an additional micro-USB port on the camera body. This is used to connect a compatible LTE module, which provides 4G connectivity for your dashcam. You can now connect more seamlessly and easily to BlackVue Cloud. The module itself is powered off of your dashcam, so make sure you have your camera hardwired in to take advantage of Cloud monitoring whilst you're away from your vehicle. Currently, the CM100LTE is only with the Vodafone network, as the camera supports bands B1, B2 and B3.
Your LTE module will accept a nano SIM for ease of use. Now has never been an easier time get your camera online and connected to the BlackVue

The newest models are available now in Australia, and are able to buy from across our online/offline dealer network. Make sure you visit our dealer locator to get your very own today. Ensure you are purchasing from an Australian authorised retailer to receive the exclusive 2 Year Australian warranty.
Please get in touch with us today if you need a hand in choosing the right model, or finding a suitable dealer near you.