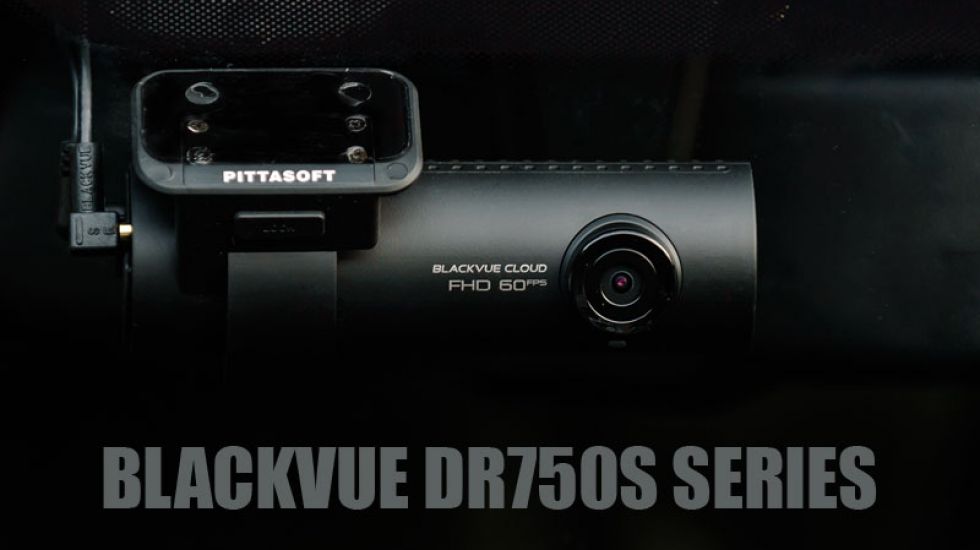 Product News
BlackVue DR750S now in Australia!
BlackVue DR750S - Australia Release


The all new BlackVue DR750S will be available to purchase in Australia from
18th Sept 2017
. With exciting new features the BlackVue DR750S is leading the competition.
BlackVue, dashboard camera manufacturer based in South Korea, has just released a successor to its best-selling DR650S Series connected dashcam. The DR750S Series packs dual Sony STARVIS Full HD sensors and significant performance improvement as well as compatibility with BlackVue Over the Cloud.
The DR750S-2CH and DR750S-1CH will be available to purchase in Australia from selected dealers on the 18th Sept 2017.
The dual-channel DR750S-2CH and single-channel DR750S-1CH refine the design of their predecessor, the DR650S Series. Although similar in appearance, the DR750S Series represents a jump in performance. Every function of the DR650S Series has been improved upon. This goes for image quality first. With Full HD 1080p Sony STARVIS sensors in each camera—including front and rear for the DR750S-2CH—the DR750S Series records detailed videos under any light, bright or dim. Even in its default settings, the night recording clarity is the best of any BlackVue dashcam to date.
Full HD 1080P + 1080P (front and rear)
Event File Lock
Dual STARVIS Sony Sensors
Enhanced Night Vision
60FPS Recording
2 Year Warranty (Australia Only)
Built-in GPS & WiFi
Faster WiFi Module

For users who want to push the ISO sensitivity even further, BlackVue added Enhanced Night Vision, which maximizes brightness in dark environments while preserving highlights and keeping noise down in daylight.Another notable feature of the DR750S Series is its 60 frames per second recording option for the main camera. The doubled frame rate adds fluidity to videos and enables the clear capture of fast-moving objects thanks to much-reduced motion blur. While single-channel dashcams with 60 frames per second are beginning to enter the market, the DR750S-2CH is the first dedicated dashcam featuring simultaneously front 60 frames and rear 30 frames recording.This speaks volumes about its processing power, which users will appreciate as they interact with their dashcam. The DR750S Series does everything faster. Be it booting up, downloading files via Wi-Fi or acquiring a GPS signal, the DR750S Series is about twice as fast as the DR650S Series.
However, raw power is not the only thing that got overhauled with the DR750S Series. Ease of use and reliability have been the objects of a stronger focus. Thanks to its active community of users, BlackVue gathered a lot of feedback over the years and recently, this trend only intensified. BlackVue would like to thank its users for their invaluable input, which helped in no small part shape the DR750S Series. The new features include BlackVue's Adaptive Format-Free file management system which reduces file errors and need for microSD card formatting. Event File Overwrite Protection is also a welcome new function that should give users peace of mind by preventing deletion of critical videos generated by impacts or sudden change of speed. Then there are a number of less obvious but still significant improvements, such as low power consumption and the high heat endurance of the dashcam, which operates easily at 10 degrees Celsius (50°F) higher than its predecessor. The extra processing power also means better algorithms can be used to encode videos more efficiently while improving the image quality over the previous generation.
Order yours now from a dealer near you. See below.
WHERE TO BUY?


When purchasing a dash cam it is very important to make sure you shop locally to ensure you receive backup support. Auto BlackBox cameras are not just another one of the many dash cams available on the market.

We distribute reputable dash cam products which are now available from over 150 stores Australia wide, this means customers can deal face to face with experienced and respected staff when purchasing a dash cam.
Find a local stockist using our dealer locator page.


If you cannot find a local supplier, please visit our web shop.